Explore Ganga and experience its many faces with an exhilarating rafting tour over miles of unbridled water and tumultuous rapids. If you haven't tried Ganga river rafting yet, now is the time. Kishore Travels Adventures  is one of the premier Ganga rafting companies favoured by adventure enthusiasts across India and abroad. Our trips generally cover around 26 kilometres of Ganga rafting in Rishikesh. The routes present breath-taking views of the landscape, offering some of the best Ganga rafting tours around. Our 35-kilometre trip is operated when the river runs high and needs a group of at least four people.
Enjoy the Best Rafting on Ganga with Your Loved Ones
You can create some extraordinary memories with your loved ones with Ganga rafting in Rishikesh. We run daily trips that can be arranged for as few as two people. So, if you want to avoid the hustle and bustle of a large group, and instead savour the Ganga river rafting experience with just one special friend, we can arrange that for you. Soak in the pristine beauty of the landscape around you. Discover remote and uncharted waters and revel in your solitude amidst nature.
Have Unique Adventures on Ganga
Leave your cares behind and forget the mundaneness of city life as soon as you step into one of the inflatable rafts that will carry you along the river. Explore Ganga and take in all that the Holy river and its environs offer. Get your adrenaline pumping and the blood rushing in your veins as you manoeuvre your raft over tricky rapids. Ganga river rafting presents a unique experience. The river which is calm for the most part turns unpredictable in places where it flows over treacherous terrain. The best Ganga rafting tours provide routes that offer rafters a good variety of curves and turns to challenge them. At Kishore Travels , we run a 35-kilometre trip from Kaudiyala which is a Grade III and III+ rafting stretch for more experienced rafters. The trip is run only when the river is running relatively high and requires a group of minimum four people. We let you choose a tour that is right for you based on your level of experience. So, whether you are a beginner planning your first Ganga rafting in Rishikesh, or a seasoned rafter coming back for another adventure, we will help you explore Ganga in never-before seen ways, providing the perfect balance of safety and excitement.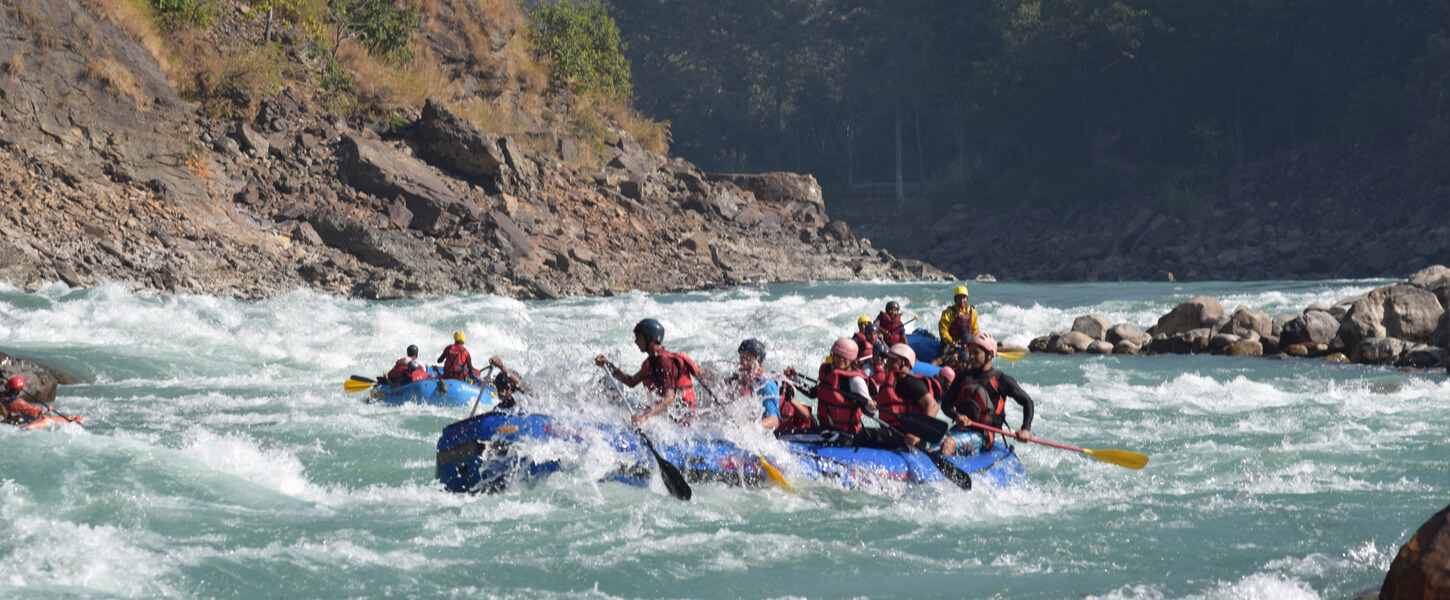 Best Safety with the Best Ganga Rafting Companies
At Kishore Travels, your safety is our top priority. We want to provide experiences that are memorable for the right reasons. So, we ensure you get your thrills while maintaining the best safety measures. Our experienced instructors are highly trained, with IRF (International Rafting Federation) certification from the best adventure sports institutes in the country. We provide state-of- the-art rafting gear and equipment like safety aids, life jackets, and helmets. Your rafting instructor is certified for Rescue- 3 courses and will provide all necessary instructions and training at the beginning of every river rafting trip. The instructor will teach you basic as well as advanced level techniques depending on the stretch of your tour. A safety kayaker will accompany you on your trip. So, enjoy the best rafting on Ganga carefree, knowing that your safety is in the best hands.
Discover the Best Rafting on Ganga with New Friends
As the popular scouting song goes: 'Make new friends and keep the old. One is silver and the other is gold'. Meet new people while experiencing the best rafting on Ganga and develop lasting friendships with like-minded people sharing your interests and passion for adventure sports. As one of the best Ganga rafting companies in Rishikesh, Kishore Travels ensures that you never have a dull moment on a tour. A few special mentions so you know what more you can expect during the tour:
10 rapids
Body surfing
Cliff jumping
Have fantastic adventures on Ganga with strangers, who in time become your friends and create lasting memories that you can cherish for a lifetime.
Get to the Heart of the Action with the Best Ganga Rafting Tours
At Kishore Travels, we want you to focus on your Ganga river rafting experience and leave all the planning and logistics with us. So, we arrange to take you to the starting point, right at the heart of the action and prepare you for your trip. The drive takes about 30 minutes after which our team gets you ready for the tour. At the end of the tour, you are again brought back to the Kishore Travels office, a mere five-minute drive from Laxman Jhula. The best Ganga rafting companies make sure that you don't have to bother about fussy details
like transport and coordination. Instead, they make sure you relax and enjoy what you intended to do: experience the best rafting on Ganga.
Capture Your Best Ganga Rafting Tours on Camera
Experience the thrill of rushing down the fast current of the Ganga, manoeuvring your raft around rocks and boulders and get those moments captured on camera, to be cherished forever. The pristine natural beauty of these parts of northern India surrounded by the great mountains in the distance are a photographer's dream. While safety rules prevent rafters from carrying their own cameras, they can get their photographs clicked for an additional cost. The safety kayaker carries a waterproof camera to capture the best moments on water and can share them at the end of the trip. So, whether you want a record of the action on water or want to get back on land to capture the beauty of the landscape, you will be spoiled for choices. What's even better? Share your photographs on TripAdvisor, accompanied by an account of your experiences. This helps other travellers and adventure sports enthusiasts to find out about the best Ganga rafting companies in the area. Show us some love too by leaving a review about Kishore Travels ! So, if you are in Rishikesh, Ganga river rafting is something you should not miss. It is an experience like no other and gives you a chance to explore Ganga in a very intimate way. There is something inherently primal about the experience as the sport necessitates that you have a synchronicity with the river and its flow. This balance is crucial for all rafting trips and helps you hold your own, on the water. So, go ahead and book your own adventure on Ganga. Get away from the concrete jungle of your city and rejuvenate your senses in the lap of nature.